Do we deserve better?
(random rantings/observation)

Just because its comics does it mean that nerds rule? I've been thinking about 'nerds' lately, sometimes thinking about it as the 'n' word (insensitive as that may be).

I don't mind calling myself a nerd every now and again, usually i do so ironically because I don't think I'm actually that nerdy (but i hate it when nerds list their 'cool' credentials so i won't do that here and prove I am a nerd). But I do sort of bristle when someone else calls me a nerd, because quite honestly nerds shit me.




I can take them in socially; talk movies and talk comics, talk about people we know in common. But having to deal with them (and i'm not talking just comic people, but IT people, science people, etc) in any sort of professional manner, or watching them try and carry themselves professionally makes my skin crawl.

There always feels like there's this combative undercurrent, this need to have to beat the other guy. Its always short-term "what's the easiest way to get want I want" schtick. Everything becomes really personal (i'm hope no one takes this too personally, and calling people socially inept and egotistical nerds probably is a bit harsh but their actions are only benefiting the few). There always seems to be this complete lack of social skill and style. It all seems to be driven by ego or more likely pig headedness.
I sometimes admire the tech companies that make it; usually the creation of nerds they soon get an experienced businessman to drive the company forwarded, acting as president or some such title, leaving the nerds to do what they do best.




In terms Supanova and Armeggedon; i think the split probably has something to do with ego. From my observations (that's all i got, extrapolations, assumptions and instinct – I've watched and known a lot of small business people, as well as running my own business for a couple of years - so i may be wrong), Danny seems to be a one man band who gives power to others unwillingly, can't delegate power. A simple example of this is not paying a professional to do the voice/PA stuff, surely he has something better to do on the weekend. He seems to be a little bit too careful in his business movements, not aggressive enough. The guests he gets are big, but he waits till the last minute to make any announcement and if they drop out - he's stuffed because he goes for quality or quantity. Plus we see the same few guests again and again, which always seems pointless (why would I want another signed picture of Summer Glau when I couldn't seduce her the first time). There seems to be this persistence in having a Sydney con, which only seems to do as well as the Brisbane con, but probably is more expensive to run. Why didn't anyone take the hint provided by the Brisbane success and do another regional show like in Canberra or Newcastle or even Adelaide; places where that Sydney apathy isn't an issue, places where they are starved for action and would go all out to attend.

On the good side of the ledger, whenever there was criticism something was done about it; after there was an uproar over the lack of local creators as guests, every year since an Australian has been included in the guest list. When some local creators got seriously done over by being tucked in some corridor, there was a change in policy and ARtist Alley was moved into more prominent areas. Though the cost of the tables is still an issue - and i don't think its ever been addressed.
The reasoning is that, sure its expensive and they aren't making money of Artist Alley - that may be true but there is no immediate profit from advertising either, nothing that is easily quantifiable but its seen as an investment. I may be a bit starry eyed but I'd say supporting local artists is just as much an investment. Local artists, don't necessarily attract the superhero or manga crowd - but they attract a portion of the market not really looked at by the current organisers.



Whilst manga and anime are here to stay i think it is pretty much as big as its going to get; families are a shrinking market - its getting too expensive to have a family and subsequently GenYers are not having kids. The new market it is that 30 year old hipster, probably already buying graphic novels from Borders and Dymocks. People into art - the Instantaneous art exhibition had minimal advertising, mainly word of mouth but had at least 300 people through the door buying at least half of the art available on opening night. This group have money and want serious stuff - not Prince of Tennis satchels, autographs of Klingon #3 or Superman #563 backissues. This is the market that go to Zine fairs and Writers Festivals and are buying up big. This group is not being catered for - and because they are essentially not nerds no one has any idea how to grab this market. Artist alley is for those bored by commercial comics (eastern or western) and are looking for someone new. I think sometimes there is some resentment when artist alley is described as the up-and-coming-hot-new-talent-who-may-be working-for-the-big-boys-soon. I'd guess most of the talent there don't want to work for the big two. On the other hand, it would also be a good idea to get in the good books of those 'superstars of tomorrow' as well.

This whole Supa vs Arma thing is getting frustrating. Would something like this happen in the 'real' world? Did this week the head of Qantas send the head of Airline Partners Australia a photoshoped photo superimposing his head over a photo of the Red Baron with the caption "Take that swine!"?

Most likely not.

(And on a related note, how the hell am i supposed to take any organisation or person from that organisation seriously when they go by the monikers like Obelix, Slykura, Black Betty, Armeggedon, etc it shits me.)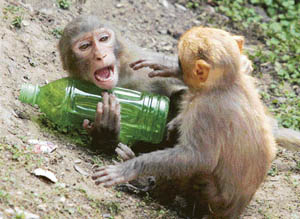 From what i can tell, Armeggedon has done well. Is this because events are cheaper to run in New Zealand? up until recently, the nz dollar was relatively stronger while the AUS$ was weak (which makes a hell of a difference when you are paying in US$), was this a factor? How many other events are there in NZ, is there any competition? The country is smaller so are people may be more likely to travel? If Armeggedon started in Australia, would it have been as successful? I dunno, its hard to say, i'm going to say no - would it have been better that Supanova – maaaybe because of the aggressive of vision.

We've all heard stories on how great Armegeddon is in NZ, but recent reports from Dave B. and Ben H. painted a different story of an empty Artist Alley because the local NZ artists were launching a book elsewhere. Why? I would assume you'd launch a book to your greatest market - so why wasn't that Armeggedon? And i used to hear stories of free AA tables? Why did that change? If it was a matter of building a relationship between a fledgling con and local artists why not do the same here? Again is it arrogance, is it a grab for easy money?
Before this started i was already thinking that i wouldn't bother with exhibiting at supanova anymore - visit sure but unless something changed - i'd concertrate on zinefairs. When armeggedon was announced, i thought 'cool, this will shake things up, location looks good, guests look good, awesome'. But posts at the Pulp Expo and Pulp Faction forums from Armedggedon have not filled me with confidence. It feels like i'm standing infront of the Armegeddon organisers and it seems like he's talking to me but actually they are staring off to the side, just giving me lip service. And slagging off the competition - which i find incredibly unsettling, frat boy bullying and my sympathy is leaning towards Danny. However Danny's "You owe me" posts soon diminished any gains.

Who fucked over who? Who knows? I want to say who cares, but if one partner is so willing to fuck over another partner what's the chances of them fucking someone else over later on (namely me as a exhibitor)? We won't find out the truth, every retelling will be embellished and subjective - it would be pointless. All i can judge an event by its past (moot here since it's the first time its going head – to - head), the way its organisers carry themselves in public (and backhanded passive aggressive comments, photoshoppery, or general whining is not a good thing) and its future.

And this is what i want to know, tell me about the future of the event before i decide who to back, and not marketing waffle not 'it'll be great, trust me', what's the future for your event in real terms for creators (not just fans)? That's what i want to know. How will the event in 3 years look like - what strategies will be used to take you there. Will there be a date change? Different cities?


To clarify any bias, when i organised the 24 Hour challenge the organisers of Supanova furnished a table in Artist Alley for the winner - out of the 5 or so offered it has been taken up twice by the winners. I've pretty much gone to every supanova since 2003, missing maybe 3 events.
I've meet people from both organisations and like them as people ok, some more than others, sure, but surely don't wish ill/failure on them.
I also most likely won't be going to either event in October but i am considering the Young Writers Festival instead. i do intend to go to Armeggedon in Melbourne, just because its close and can road-trip it.

Being a really big fan of local comics and their creators sometimes colours my view -i think maybe I 'glorify' them to much, assume that people see them just as important as I do. Maybe i'm taking it all too seriously and really just need someone to post a picture of the three amigos.